Visit Us at Loudoun's Farmer's Market
October One Vineyard has chosen the farm market setting as an additional way to meet our customers and meet more members of the community. The farm market is the perfect place to enjoy locally sourced products from farmers all over the northern Virginia area. We are proud to be a part of this magnificent collaboration.
Taste, learn, and purchase at the Leesburg Farmers Market.
Leesburg Farmers Market
Every Saturday: 8 am-Noon
May 7 - October 31, 2023
Virginia Village Shopping Center
Catoctin Circle, Leesburg, Virginia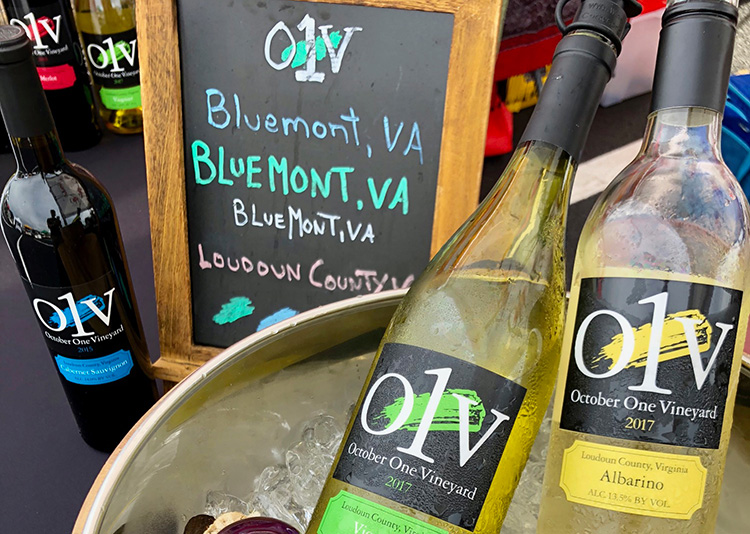 Supporting Local Businesses
Ask for our wine at local Loudoun County restaurants and shops.
Plan a visit to the restaurants and shops supporting our farm and other local producers. Loudoun County is fortunate to have a food and wine scene that strives to bring locally sourced products to its clientele. We are blessed to have restaurateurs, chefs, and shop owners that support many local producers such as October One Vineyard.
Buford's Biscuits!
Serving simple southern fare including signature farm-to-table cathead biscuits. 15 Loudoun Street, Downtown Leesburg
Leesburg Gourmet-Wine and Chocolate Shop
Located in Historic Downtown Leesburg, Leesburg Gourmet is committed to bringing you fine food and drink from around the world and around the corner.
Salamander Resort and Spa "Gold Cup Bar"
With the sophisticated ambiance and fabulous setting, Gold Cup Wine Bar is a relaxing venue for cocktails and delicious fare in Middleburg Virginia. 
Echelon Wine Bar
Echelon Wine Bar is a rustic modern wine bar in historic downtown Leesburg offering international and local wines paired perfectly with delectable culinary offerings. 
Tuscarora Mill Restaurant
Tuscarora Mill Restaurant is a high-end New American fare restaurant with a refined dining room, rustic bar and atrium. They are a great supporter of Virginia wines. 
The Liberry
A premier beverage retailer featuring wine, beer, coffee, and other drinks from around the world and locally.