Our Wine Growing Family
Loudoun County, Virginia is home to some of the best wine-growing talent.
The O1V Story
A date, a place, a love, a commitment
October One Vineyard or O1V is a 30-acre vineyard located in Bluemont, Virginia. October One commemorates our wedding anniversary and is meant to symbolize our commitment to high-quality grape growing. We are often amused at the parallels that can be drawn between marriage and nurturing a vineyard to express itself into quality fruit and therefore quality wine.
O1V wine is 100% estate grown on our Loudoun County vineyard. Our wines are made in very limited quantities with the strictest attention to high-quality fruit, artisan practices, and painstakingly careful crafting! Our team works very hard to do all that is required to assure that each vintage will express its uniqueness from the previous and show its fullest potential. Each vintage has an authenticity we strive to capture and bring to you.
We love what we do! We have over 15 years of experience growing, making, selling, learning about, and enjoying Loudoun County, Virginia wines. We feel incredibly fortunate and proud to be a part of Loudoun's wine growing community and always look forward to sharing each vintage with wine enthusiasts.
October One...A date, a place, a love, a commitment!
Cheers,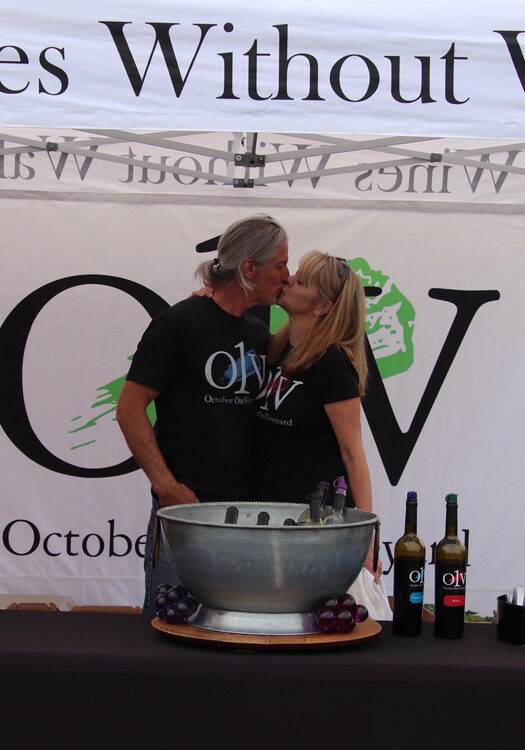 We are committed to crafting high-quality wines that express our terroir and the vintage year after year. We feel single vineyard, single varietal wines provide context to understand not only this place but the influence of mother nature on the vintage of a wine.
October One Vineyard has benefited from the committed, collaborative, energetic, and knowledgeable professionals within our Loudoun County, Virginia winegrowing community. These are the people "Behind the paint stripe" that work to grow O1V wines for you.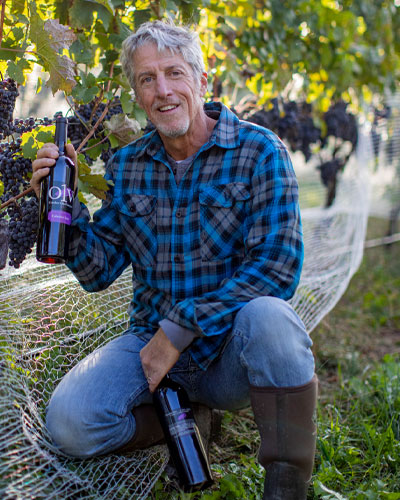 Bob Rupy
Owner | Winegrower
A vineyard is a great place to reflect on what is possible. It is also a constant reminder of life needing to be attended to, and that most things don't just happen if your looking for positive outcomes. I love the work I do to bring out the best in this place, the dynamic nature of the winegrowing process from vintage to vintage, and working with the team to capture the best results in the bottle for our customers. The work  accomplished, and results achieved have been a group effort. Our product is grown, produced, and continuously supported by the talent and commitment of O1V's winegrowing family.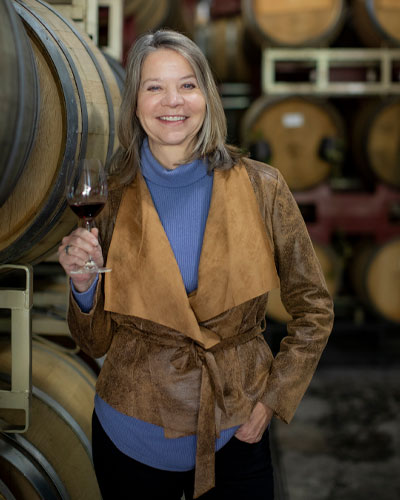 Loree Rupy
Owner | Wine Promoter
OK, so a vineyard needs sunshine, right? Well, that's where Loree comes in. An appreciator of wine, people, food, and any combination of the three. Loree is O1V's biggest fan and promoter. She is passionate about locally sourced products and businesses. She knows what it takes to run a small business and loves to hear the stories, taste the products, and support others doing the same. Loree likes to share her thoughts and perspectives in general. Check out her blog, 'Fruit for Thought", generally categorized as, conversations and musings sometimes having to do with wine.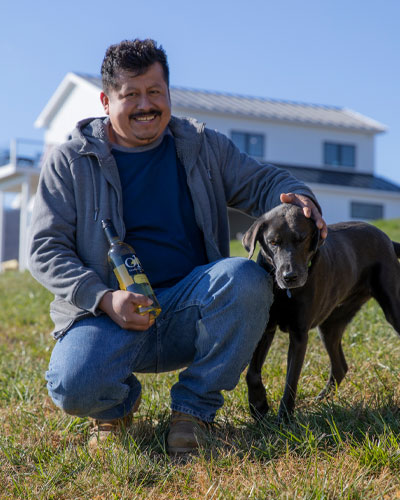 Severino Maya Garcia
Vineyard Manager
Severino has been a part of O1V since before the first shovel hit the ground. He has overseen all the hard work required to layout, build, plant, and now maintain and nurture October One Vineyard. To produce grapes for high quality wine production there is a dependency on completing work expediently in order to reap future rewards. He and his crew work diligently throughout the year in all types of weather. O1V vintages show their best due to Severino's expertise, continuous learning, and commitment.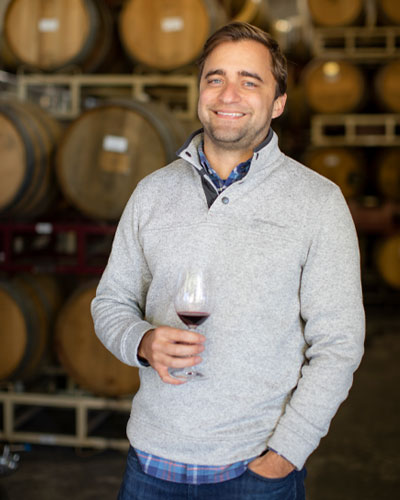 Nate Walsh
O1V Winemaker 2017 to Present
Anybody who has had a chance to work with Nate knows of his commitment to advancing the disciplines and culture of quality winegrowing in Virginia. He and his wife Sarah are growing wonderful wines, and a wine-lovers experience around Walsh Family Vineyard. Nate, as a wine maker, strives to produce delicious, authentic Virginia wines meant to be a direct expression of the vineyard. It has been an extreme pleasure collaborating with Nate on the expression of October One Vineyard wines since the 2017 vintage.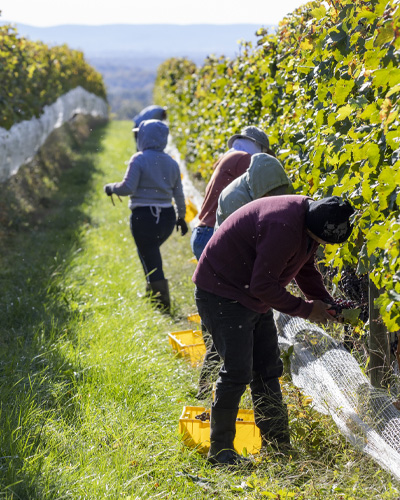 The Crew
Vineyard Talent
Lead by Severino, our crew has accomplished so much since planting this site. The process of growing grapes at O1V is completely done by hand.Their talent, consistency, and care is admirable. The results of their hard work shows vintage after vintage. No matter if it is during cold winter pruning, spring planting, or hot summer canopy management, one vine at a time, many times, they get the job done.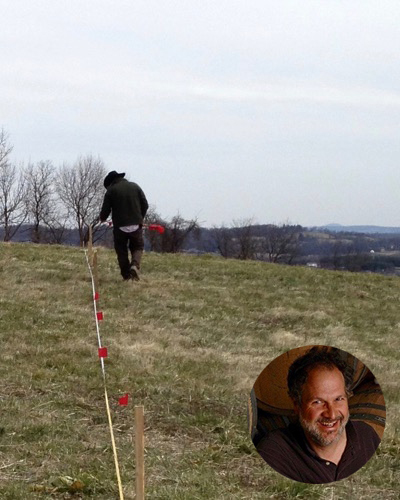 Doug Fabbioli
Vineyard Consulting
I have captured Doug's good side(s) in this photo. If he is out doing stuff to further  excellence in local winegrowing, he is going to be happy. Doug dedicates incredible energy toward achieving a vision of for a place like October One Vineyard, and on a broader scale, our local industry and farming community. A teacher and a farmer at heart. He has been with us since day one of our Loudoun wine journey and we have benefited greatly, as has our vineyard and our wines. 
Conor Rupy
Cheap Labor
There is no shortage of work around October One Vineyard. It has been great to have Conor's help to get things done when needed over the years.  Conor enjoys the physical nature of the work to build, plant, and maintain the vineyard.  He is currently studying Business Information Technology at Virginia Tech. He is continually bringing new thoughts and ideas to support our small business and has developed a great wine tasting palate. So he not only cuts grass, but provides valuable insights on the latest O1V products.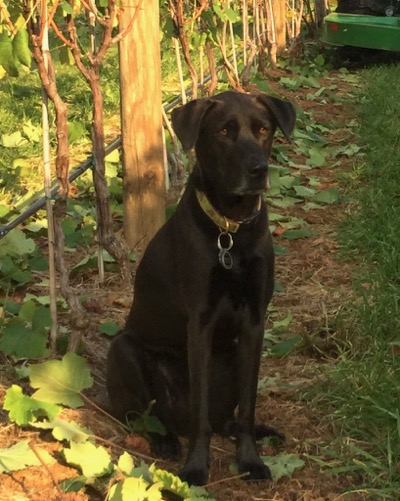 Becca
A Black Dog
We have more pictures of our dog, Becca, than any other family members. She is a vineyard companion, mascot, ground hog and rabbit chaser, and the official "Roller-inner-of-things".
Becca is a chow and Plott hound rescue. Therefore, well suited to watch over this place and slowly stalk the little creatures that continually allude her. We know for sure she loves getting in the truck and going to"work" at the vineyard, and fairly certain she wishes that grapes tasted like bacon, and the tractor could be a giant chew toy.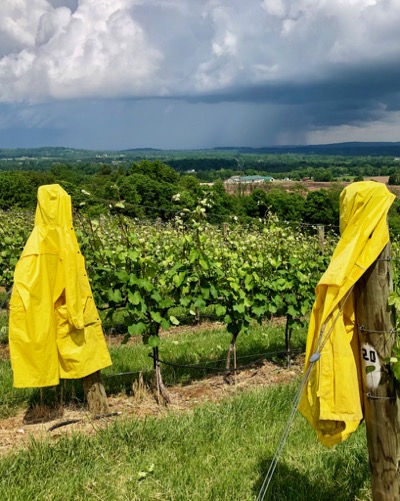 Mother Nature
A full-time volunteer work force
She kind of just shows up for work when she feels like it. Somewhat moody with a personality ranging from sunny to gloomy or cold.....this may need to be addressed during her next review. It seems futile to complain since she does work for free, and is frequently very helpful. 
OUR Virginia WINE Club
Have you ever been a member of a wine club? Get access to exclusive wines and quarterly wines delivered to your home or pick up in our Leesburg Tasting Shop.*
Be a part of something special.