"Come quickly; I am tasting the stars!"
This famous wine quote attributed to Dom Pérignon when tasting the first sparkling Champagne implies the shared experience of something alluring and delicious. Wine, and even more sparkling wine, brings people together. It is for sharing.
Food, bubbles, and fun.
Sparkling wine has nice acidity, palette-cleansing attributes, and elegance, making it a great food wine and even for desserts where its acidity can balance the sweetness. Sparkling wine's fun and beautiful nature is appealing as a starter at ceremonies, parties, and toasting on special occasions.
Here are some suggestions to try with our Sparkling Viognier: triple cream Brie cheese, sweet rolls with mascarpone cheese, and real buttered popcorn. Fried shrimp, fried oysters, smoked salmon, and fried calamari should pair well. Try fruit tarts, sweet crepes, baklava, or shortbread for dessert.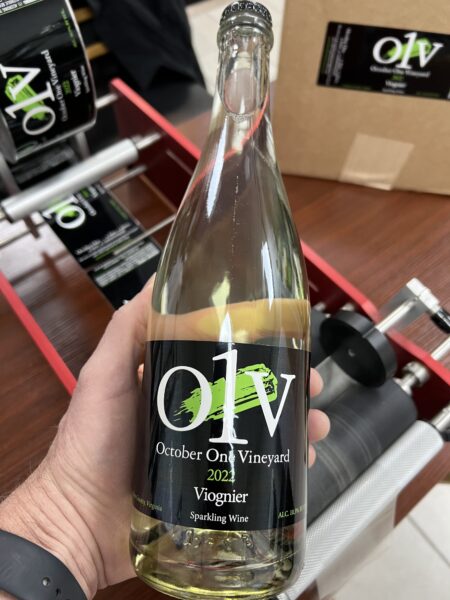 How is a sparkling wine made?
All sparkling wine is made in the same way. Winemakers trap and dissolve carbon dioxide (CO2) in wine with a second fermentation or by injecting CO2 into the wine. This process also increases the pounds per square inch (PSI) of atmospheric pressure in the fermentation vessel.   
Inside a bottle of sparkling wine, no bubbles can be seen. However, when wine is opened, it is returned to normal atmospheric pressure, at which point much less CO2 stays dissolved in the wine. It then sparkles as the CO2 escapes forming bubbles. These processes for heightening the tactile enjoyment of wine take extra time, expertise, and expense.
It's jumping.
The sales volume of sparkling wine and champagne in the United States from just before the pandemic in 2018 until 2021 jumped 32%. I attribute the recent increase to people sharing sparkling wine and celebrating life indoors! And overall, from 2001 to 2021, sales volume has increased by 220%.
How does ours taste?
The new October One Vineyards 2022 Sparkling Viognier has balanced acidity, with an opening aroma of fresh green apples, a potpourri of sweet scents, fruit ferment, and a hint of spice. The mouthfeel is youthful, light, and palette-cleansing. This alluring Viognier sits nicely in the weighty bottle behind a handsomely designed label with O1V's signature paint stripe as a backdrop, topped off with a black crown cap.              
Sparkling Viognier is rare.
October One Vineyard has something unique. While many sparkling wines can be found in Virginia, I could find little to no sparkling Viognier in Virginia when searching online. I looked at local grocery stores and could find none. I looked at the most prominent wine store around and found none! But we have sparkling Viognier at our tasting shop in downtown Leesburg at 7 Loudoun Street; come and share some with us!