We were all dressed up and at the Loudoun Wine Awards dinner at the beautiful Lansdowne Resort main ballroom. The room was buzzing with excitement. The lights were low, and the air was thick, the moment suspenseful, and why not? October One Vineyard's reception of many previous awards (but more on that in a later blog) made us hopeful for yet another accolade. And after all, these were prestigious honors being awarded! The awards include the coveted Chairman's Award, the Winemaker of the Year, and the Winegrower of the Year awards.
Finally came the Best Red Vinifera award. And we won. October One Vineyard's 2020 Cabernet Sauvignon, winemaker Nate Walsh, produced by Walsh Family Wine, won Best Red Vinifera!
Oh, the excited faces and jubilation; there were shouts, whistles, clapping, and backslapping. Then, after the hugs, handshakes, and pictures, a sudden confusion set in amongst some, the question many were thinking was quietly whispered, "what is vinifera?"
Simply put, Vinifera is the species name of the wine grapes we know and love. So, you could say October One Vineyard won an award for the Best Red Wine made from red wine grapes.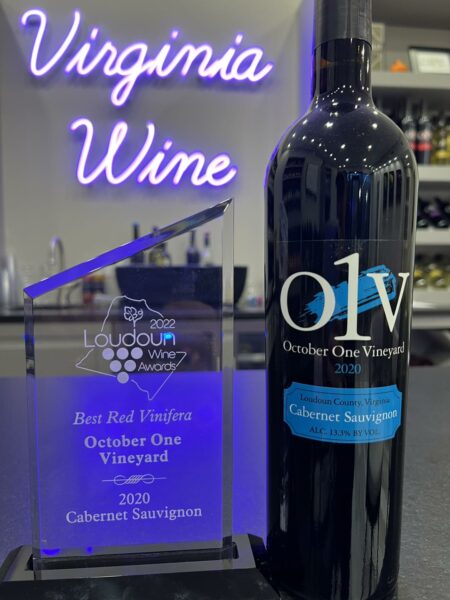 Note that you may also see Vinifera referred to as Vitus Vinifera. In the hierarchy of the plant kingdom is the following order:
Family    >   Genus  >  Species   > Sub-species or variety
Vitaceae  >   Vitus   >  Vinifera  > ex: Cabernet Sauvignon
The impact of the Vinifera species, with its thousands of varieties of grapes, is enormous. The most notable and popular Vinifera grapes are listed here with their country of origin:
Red
France: Cabernet Sauvignon, Cabernet Franc, Gamay, Malbec, Merlot, Pinot Noir, Petite Verdot, Syrah. Italy: Barbera, Nebbiolo, Sangiovese. Spain: Grenache, Tempranillo. Croatia: Zinfandel
White
Austria: Gruner Veltliner. France: Chardonnay, Chenin Blanc, Gewurztraminer, Pinot Gris, Sauvignon Blanc, Sémillon, Viognier. Germany: Riesling. Spain: Albarino. Unknown: Muscat
Vinifera grapes since antiquity
If an ancient pre-Roman era Etruscan (900 BC – 27 BC) winemaker were to travel through time and visit Walsh Family Wines, where our wines are produced and chat with Nate Walsh and his winemaking crew, they would understand what was taking place. The basic steps of winemaking with Vinifera grapes have not changed through the centuries.
The Etruscans were cultivating grapes before the Roman empire emerged in what is today Tuscany. And if they were to visit the source of October One Vineyard's single varietal wines in Bluemont, VA, they would undoubtedly know what was happening in the vineyard. And indeed, they would recognize what was growing as grapes closely related to their own.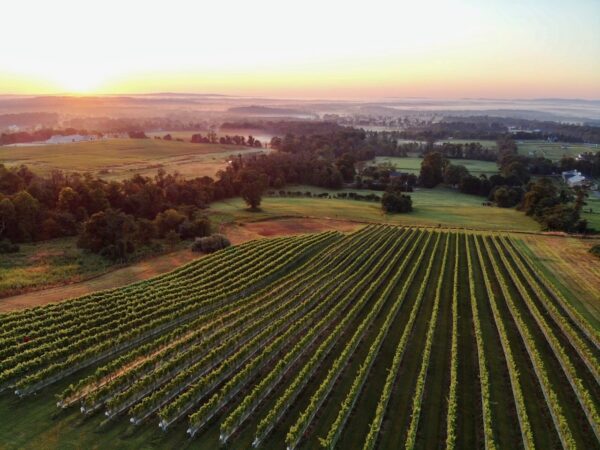 Not all grapes are equal
Time and experience have taught us that wine is best produced from the Vinifera species grapes of Europe. However, there are many other grape species, and wine can be made from some. To name a few, the Vitis aestivalis species from which the Norton grape belongs is native to the United States. The Vitus labrusca species is native to eastern North America and is the species that the loved Concord grape belongs to. Concord grapes are used for jelly and, in the United States, for making sweet Kosher wine.
I can make wine from almost any grape species. I can make wine from strawberries, Dandelions, rice, or even tomatoes! However, nothing compares to wine made from the Vinifera species of grapes. Vinifera grapes possess a balanced set of flavors, aromas, acid, sugar, tannin, and juice to create a flavorful and complex wine that can improve with age.